Not all Microsoft 365 subscriptions provide access to eDiscovery licenses. However, figuring out which subscription level to purchase to take advantage of Microsoft eDiscovery features raises several questions: 
Do you need Core eDiscovery, or do

 you need Advanced eDiscovery?

Is Content Search included in all plans or is it subscription-based?

What is the difference between them (Core eDiscovery vs. Advanced eDiscovery)? 

Do we subscribe to Microsoft 365 or Office 365? 

Does our Microsoft 365 subscription permit add-ons?
Like most tools, deciding which one is best is dependent on user needs and price.
What is Microsoft Content Search and how do I get it? 
As a starting point, it should be noted that all Microsoft 365 subscriptions with access to the Security and Compliance Center have access to Content Search.   
As the name suggests, Content Search permits users to run search queries and export data from the content of mailboxes, Sharepoint sites, and OneDrive. Content search is a helpful tool to be used in tandem with Core eDiscovery and Advanced eDiscovery.
What are the different roles available in Office 365 eDiscovery?
Microsoft 365 Core eDiscovery and Advanced eDiscovery have the same assignable roles. The roles are Reviewer and eDiscovery Manager.
Reviewer has the most restricted access to eDiscovery for users. This allows users to only see and open the list of cases as well as perform analysis. The eDiscovery Manager gives more accessibility to the users. This role grants the user permission to create and manage eDiscovery cases and prepare search results.
How to Access Microsoft 365 Core eDiscovery
To access Microsoft Core eDiscovery your organization must have at least a Microsoft 365 E3  or Office 365 E3. 
The difference: Microsoft 365 includes the latest Windows Operating System (OS) as well as the Enterprise Mobility Suite. Whereas Office 365 includes only access to apps (Sharepoint, One Drive, Office Suite, etc.) with no OS option. 
With both the Microsoft 365 and Office 365 E3 subscriptions a user can be assigned the E3 license. With that license, the user may place eDiscovery holds on mailboxes and sites. Once your organization has the subscription and the related eDiscovery licensing, it is fairly simple to grant access to Core eDiscovery. Administrators simply assign eDiscovery permissions to desired users.
Accessing the Advanced eDiscovery permissions is a tad bit more complicated. 
How to Access Microsoft 365 Advanced eDiscovery
For Microsoft 365 Advanced eDiscovery, an organization must have at least a Microsoft 365 E3 subscription and also the E5 Compliance Add-on (if you have the Microsoft 365 E5 or Office 365 E5 subscription, add-ons are unneeded).
To enable access to Microsoft Advanced eDiscovery, subscribers to Microsoft 365 E5 must assign users an E5 license. Subscribers to Microsoft 365 E3 need to assign users E5 Compliance add-on licenses. 
To access Advanced eDiscovery, Office 365 users must have an Office 365 E5 license. 
Keep in mind that if you are an IT administrator, eDiscovery manager, lawyer, paralegal, or investigator using Advanced eDiscovery to manage cases you do not need an E5 license or add-on license. 
What Are the Differences between Core eDiscovery vs. Advanced eDiscovery?
For ease of reference, we put together a comparison of Microsoft Core eDiscovery and Advanced eDiscovery features. Download here or by clicking on the chart.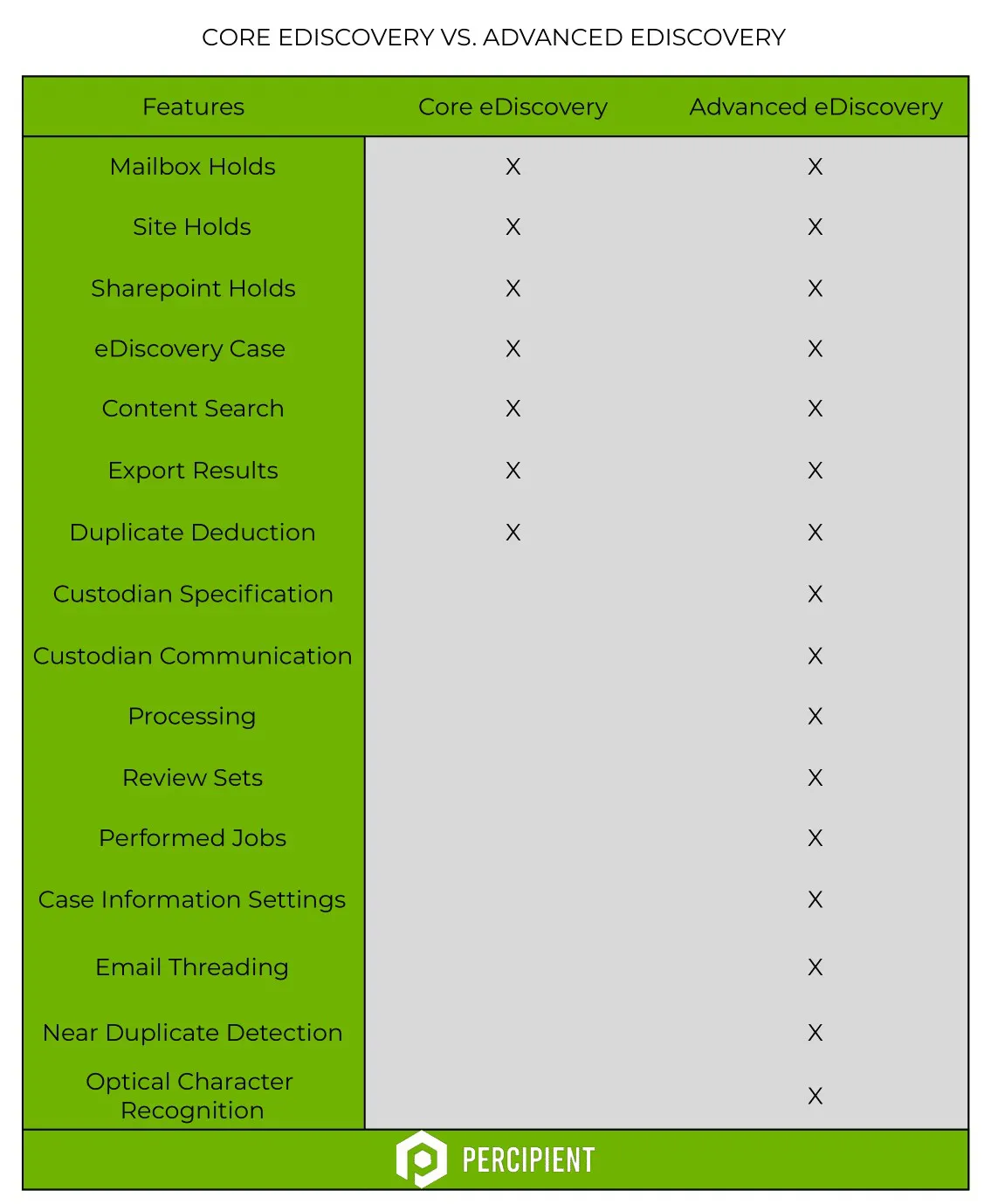 Additional articles about Microsoft eDiscovery:
Augmenting Microsoft 365 eDiscovery Search Capabilities for Best Results
Understanding Microsoft Teams eDiscovery